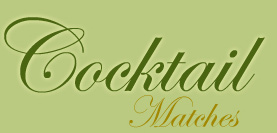 Company for Six!
Cocktail Matches introduces a new & exciting product for singles in India called Company For Six.
Offers singles a totally new &unique friendship & matchmaking service in Delhi for all age groups & nationalities.. Company for six is here to give Delhiite singles a fun way to mingle & an interesting way to meet new people, and hopeffuly assist in finding you a soulmate. Company for Six has a few simple and interesting ways to introduce you to meet likeminded friends with similar interests and ideas.The core concept is to introduce you to new, exciting friends at carefully chosen restaurants in the city,where three men and three women enjoy the company of new people at a sit down dinner with drinks. We expect each member to pay for their own meal and drink at the end of the evening.

This comfortable environment allows each member be themselves and have fun at the same time. We always hope that some friendships end up into successful relationships for our members.
Another concept amongst Company for Six members are the Outdoor events, where groups of about a dozen singles take part in fun events where new members can be met. Activities include cooking classes, salsa dancing, , rafting and other new introductory outdoor adventures.
Company for Six has opened its first office in South Delhi.
Professional consultants at Company for Six work hard to ensure that each of their customers finds success.
To start, fill up the form today and get ready to join a roller coaster adventure to finding the perfect match.You will be contacted to fix a coffee morning to find out more about you.
Registration fees for members is waived for the first six months, though a booking fee applies prior to each dinner event.
Each dinner venue is carefully chosen for its excellence in cuisine and ambience, as we look for fairly noise free environments so that our members can enjoy the company and conversations at their table.
This unique concept is bound to be a real success in enabling you to meet new friends & enjoy a sumptuous meal, so jump on the bandwagon and send us your details, or queries.
Cheers !